Les Dernières actus:
Informations
Fiche TechniqueL'intrigue de la sérieListes des épisodesImages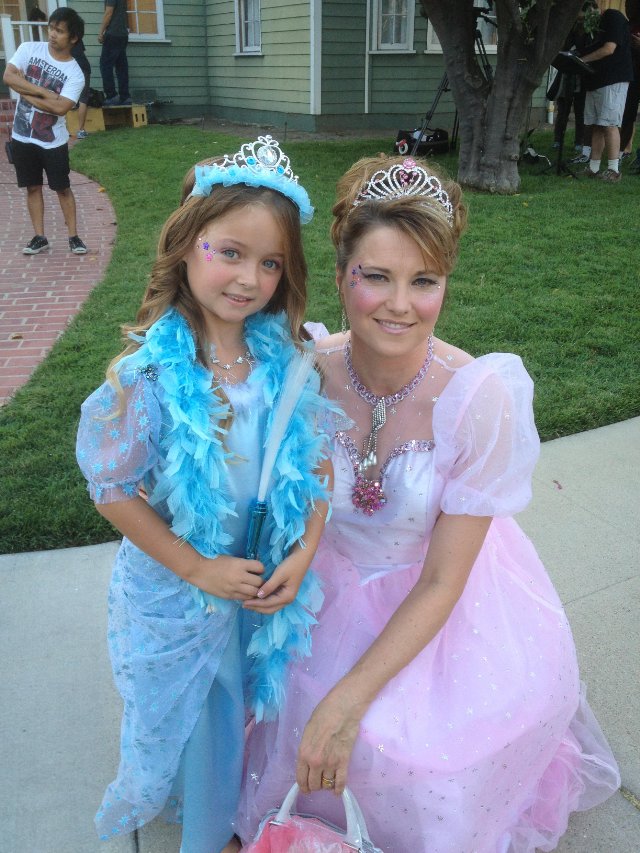 Titre Original : Parks and Recreation
Créée par: Greg Daniels & Michael Schur
Pays d'origine: États-Unis
Chaîne d'origine: NBC
Genre: Comédie
Format: 22 minutes
Acteurs principaux: Nick Offerman (Ron Swanson), Amy Poehler (Leslie Knope), Aziz Ansari (Tom Haverford), Adam Scott (Ben Wyatt), Rashida Jones (Ann Perkins), Rob Lowe (Chris Traeger), Chris Pratt (Andy Dwyer)..
Acteurs secondaires: Lucy Lawless (Diane Lewis), Donna Meagle (Retta), Jerry Gergich (Jim O'Heir).
Première diffusion: 9 avril 2009 sur NBC
Actualités
Site Officiel
Facebook
Twitter
Cette série met en scène le quotidien des employés du département des parcs et des loisirs de l'État de l'Indiana dans la ville fictive de Pawnee.
L'intrigue est surtout centrée sur la directrice adjointe, Leslie Knope, qui a de grandes ambitions professionnelles et politiques.
Lucy Lawless dans Parks and Recreation: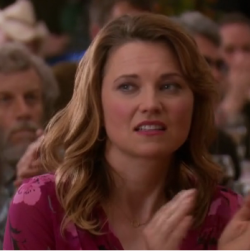 Diane Lewis (Lucy Lawless) est une mère célibataire qui vient d'emménager à Pawnee avec ses deux filles, Ivy et Zoey Lewis. Elle est vice-directrice dans une école moyenne.
Suite à un nid-de-poule sur son trottoir, Diane contacte le département des parcs et des loisirs. Cependant, elle ne reçoit aucune aide jusqu'au jour où Ron décide d'y allez lui-même.
Au fil des jours, Diane et Ron se sont rapprochés l'un de l'autre. Aujourd'hui, Diane est enceinte et mariée…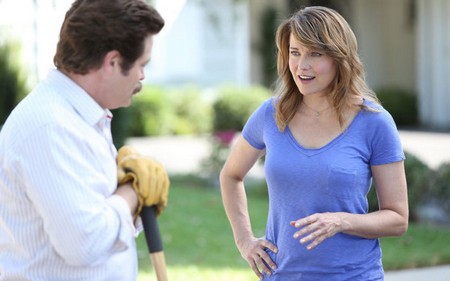 | | | | | | |
| --- | --- | --- | --- | --- | --- |
| Saison | N° | Titre original | Réalisation | Scénario | 1ère diffusion |
| S5 | 3 | « How a Bill Becomes a Law » | Ken Whittingham | Dan Goor | 04/10/12 |
| S5 | 5 | « Halloween Surprise » | Dean Holland | Michael Schur | 25/10/12 |
| S5 | 9 | « Ron & Diane » | Dan Goor | Megane Amram & Aisha Muharra | 06/12/12 |
| S5 | 11 | « Women in Garbage » | Norm Hiscock | Harris Wittles | 24/01 /13 |
| S5 | 22 | « Are You Better Off ? » | Dean Holland | Michael Schur | 02/05/13 |
| S6 | 1/2 | « London » | Dean Holland | Michael Schur | 26/09/13 |
| S6 | 3 | «The Pawnee-Eagleton Tip off Classic » | Nicole Holofcener | Alan Yang | 03/10/13 |
| S6 | 22 | «Moving Up, Partie 2 » | Michael Schur | Aisha Muharrar & Alan Yang | 24/04/14 |